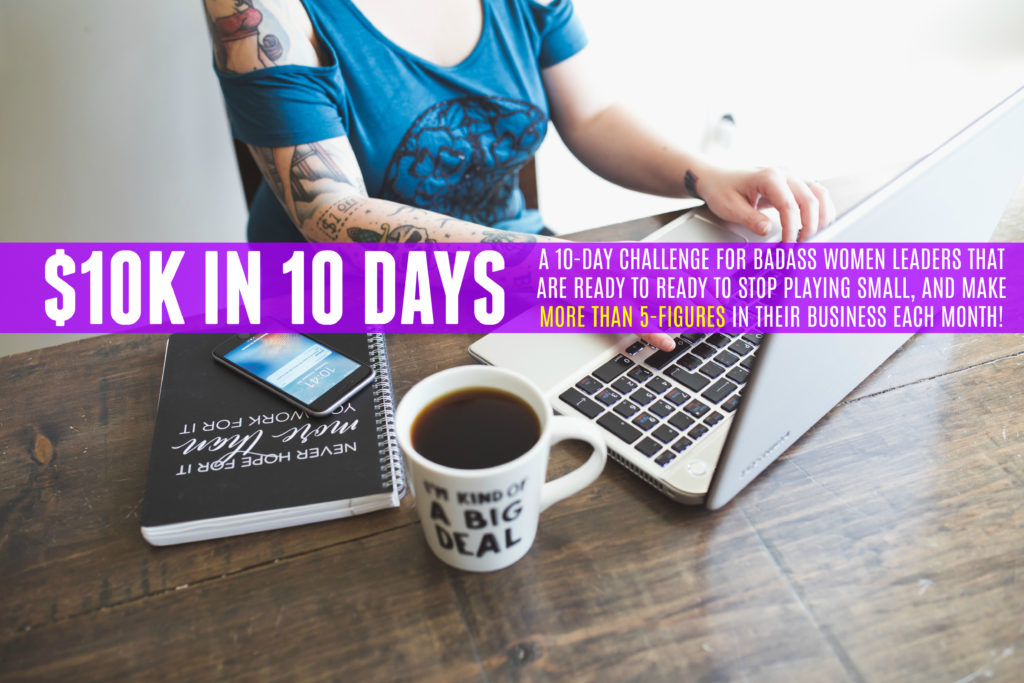 This came to me in a dream!!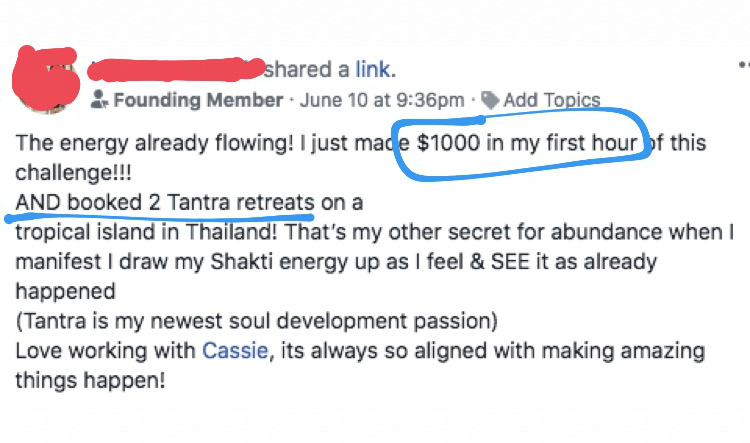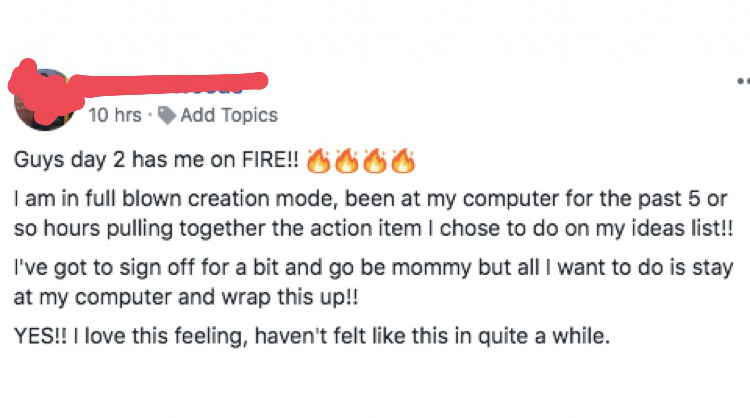 So here's what this is:
$10K in 10 days - a 10-day challenge for badass women leaders that are ready to stop playing small, and make more than 5-figures each month in their business. You down?
I'm hosting my ever popular 10-day challenge that will get you to $10K in just 10 days using the sales and marketing strategies I've discovered that bring in cash FAST AND FURIOUS.
I used these strategies for my biggest month ever ($80K cash in the bank) - they work like magic. I do this stuff pretty much every single month in my business. That's how well they work!
Wanna know what's happening here?
>> Each day for 10 days, you'll get a specific assignment that will help you to elevate your money and sales game, and get you into position to bring in $10K or more in 10 days.
>> There will be a journaling assignment + a tactical "go and do" assignment every morning.
>> If you do these assignments, and you follow through with the tasks, it's a guarantee that you'll receive $10K or more by the time the challenge is up!
What this will look like:
- You can start straight away, as soon as you sign up. All assignments will be sent to you via email to keep forever.
- Every morning, you'll receive your daily assignments (1 journaling assignment and 1-3 "go and do" assignments). Do those assignments.
This is ONLY for people who:
- Are willing to do the assignments each day (they will take around an hour to do).
- Have been in business at least 6 months and have some kind of an audience online (even if it's small!).
- Understand the benefit of investing in their sales and mindset education and are willing to do it.
First

, click button below and register now:

Second
, check your email for a message from me. It will include all of the info you need. Plus, some fun bonuses will be in there (see below). 
Third
, set the intention, RIGHT NOW, that the 10 days of this challenge will be the best 10 days for you ever. KNOW and BELIEVE that you're about to receive $10K in less than 2 weeks. Because YOU ARE. I'm SO excited!!
I thank the universe for this $10K in 10 days dream that was put in my head so I could share this magic with YOU.
I know how hard you've been working. How many hours you've been putting in every day. How many posts you've been writing and things you've been selling - and STILL not getting past that $10K month.
I know how discouraging that can feel.
I know because that was me for many months in the beginning - until I finally decided that enough was enough, it was time to up my game, and found someone to show me how to make it happen.
I want to be that person for you.
I want to save you so much time and stress and uncertainty and basically give you a list of
the EXACT things to do to easily smash the multiple 5-figure months goal!



$10K in 10 days - it's yours, right now!! Let's do this!
Click the button below for instant access:

This is gonna be SO good!
Got Questions? I've Got Answers!

Q: Is this only for coaches?
A: Definitely not! This is for anyone that wants to make more money, in any business. 🙂
Q: Do I need to have a product/program/course already created?
A: No, you do not need to have anything created in advance. We'll cover that!
Q: Is this for me if I'm not making money in my business yet?
A: Yes, absolutely!
Q: I don't have a business. Can I participate? 
A: Sorry! This challenge is only for women that have a business.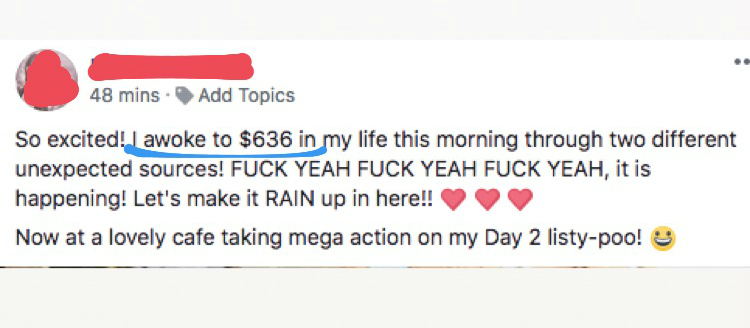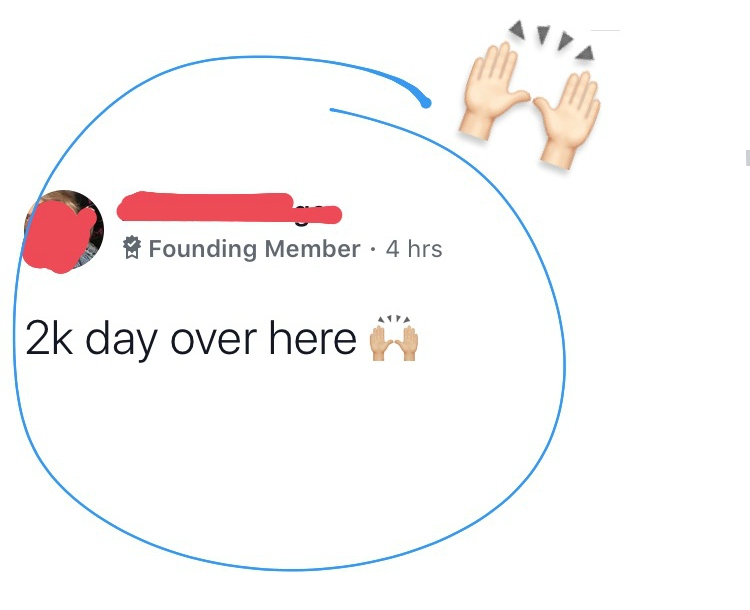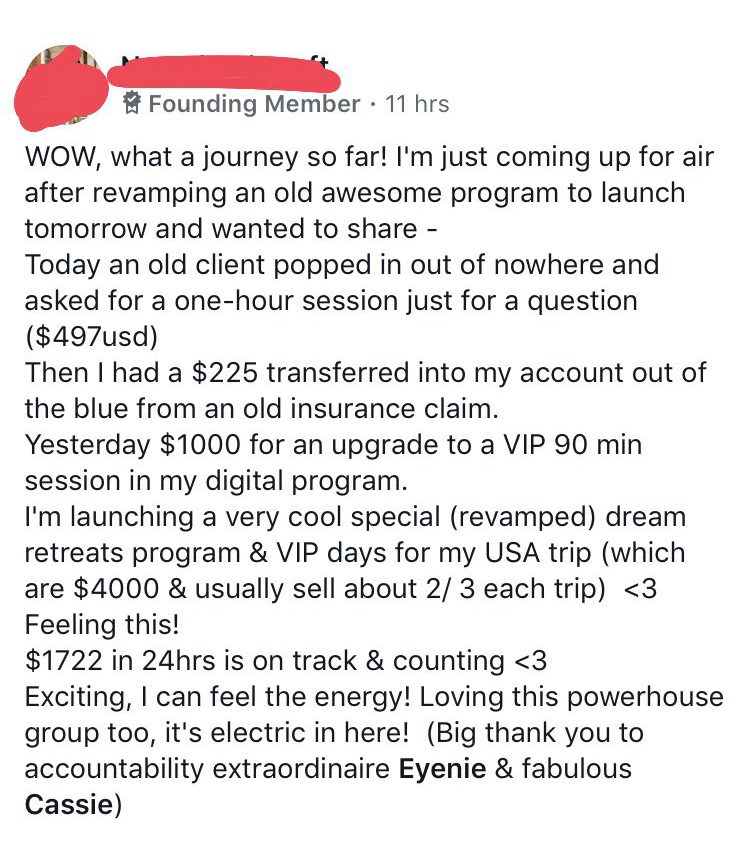 I'm SO excited to support you and teach you the valuable sales & marketing strategies that have enabled myself and my private clients to EXPLODE our cash flow and consistently bring in high-income months.
Do YOU wanna bring in $10K (or more!) in just 10 days?
Join us for the challenge! <3